2009 Allegro 35QBA Review
Introduction
Tiffin Motorhomes recently announced the Allegro 35QBA. This class A RV is a member of the 2009 entry level Allegro line. Although, referring to this coach as "entry level" really is a misnomer. It may be entry level to a Tiffin product but it's features place it well above many entry level offerings by other manufacturers. For 2009 the Allegro gets a fantastic new full body paint scheme that makes it look much more expensive than what it is. Actually the Allegro is a very affordable class A motorhome. In addition a raised ceiling height and 22.5" wheels were added in 2009. The 35QBA is unique in that it offers bunk beds. This helps to ensure that you can pack your entire family inside this coach. Indeed, this coach is capable of sleeping 8 persons without resorting to extreme measures.
I recently had the fortune to evaluate a 35QBA at King's Campers in Wausau, WI. Accordingly I got out my camera to take some pictures to share with my fellow members of the TiffinRVNetwork forum. Current pricing on all new Tiffin products can be viewed on my Tiffin Motorhomes Pricing page.
Note that I have also uploaded larger 1024x768 (XGA) images in addition to the smaller ones shown in this review. If you want to view a larger picture simply click on the image in the review and a new window with a full screen image will appear.
If you would like to print this review it probably won't work that well. The pictures and text on the far right will probably get clipped. If you want to print this review, Click Here for a Print Ready Version.
Feel free to download or save any of this text or images if you want. If you repost any or part of it to any other website just be sure you don't change any of my wording and please mention where it came from.
Enjoy!
Mark Quasius - "Cruzer"
Exterior
The 42QRP that I viewed at King's Campers was in the Mocha Silver Sand color scheme.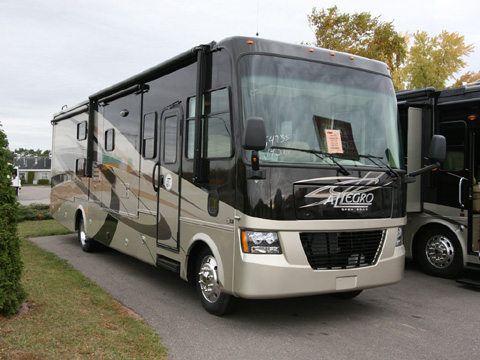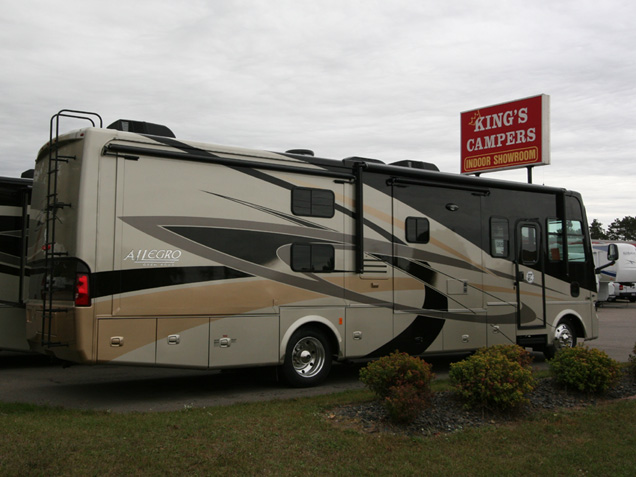 The above images show the changes made this year to the paint scheme. The 2009 Allegro shows a heavy accent toward black on the front cap as well along the roofline area, giving it a high end look for this coach.. The interior ceiling height has been increased by 4-5 inches and the ladder is now black anodized aluminum to better blend in with the decor.
The black background on the front cap helps offset the flared bronze colors incorporated into the swirls and stripes.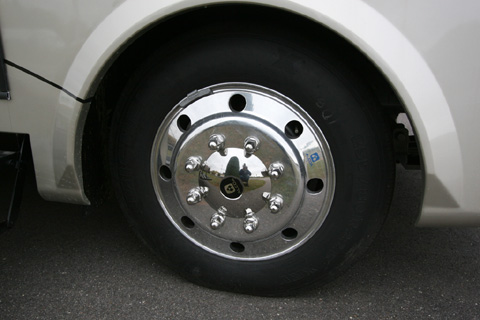 The optional Alcoa aluminum wheel rims help support the 22.5" tires that offer increased carrying capacity and road feel over the 19.5" rims used in previous years.
Interior - Cockpit Area
The 35QBA has three chassis options available to the buyer. It can be ordered with a Ford 22,000 lb GVWR chassis, a Workhorse W22 chassis, or a Freightliner FRED chassis with a 24K GVWR rating.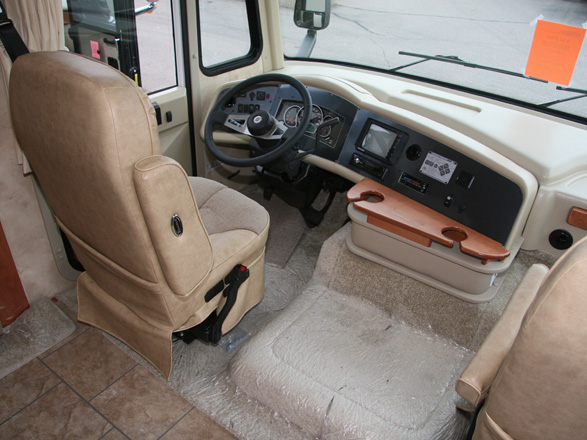 This coach was equipped with the Workhorse chassis. It had a 8.1 liter Vortec engine coupled to an Allison 1000 series 6 speed automatic transmission. The center dash area holds a monitor for both the rear vision camera as well as side camera that automatically cycle with the turn signals and the controls for the Atwood leveling jacks. The engine's dog house is quite low on the Workhorse chassis and is practically non-existent on the FRED chassis.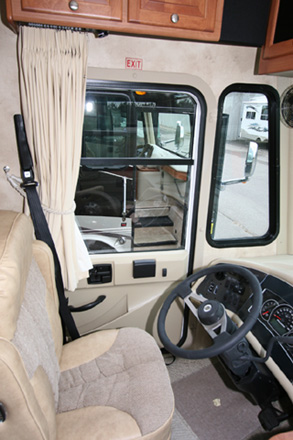 The optional driver's door allows for quick access to the cockpit when refueling. It also features a power window to ease access at toll booths and when parking.
Interior - Main Salon and Galley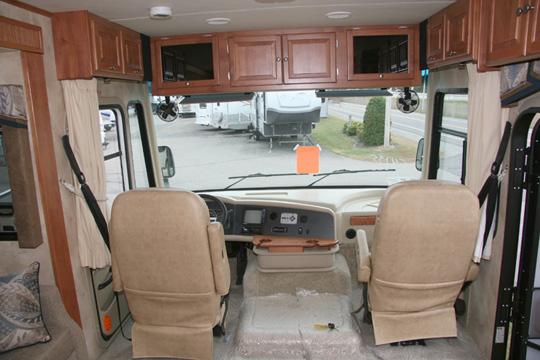 This floor plan comes standard with a mid-ship mounted TV. However, an optional LCD TV can also be placed in the overhead cabinetry above the dash area. This particular coach came with the standard cabinetry.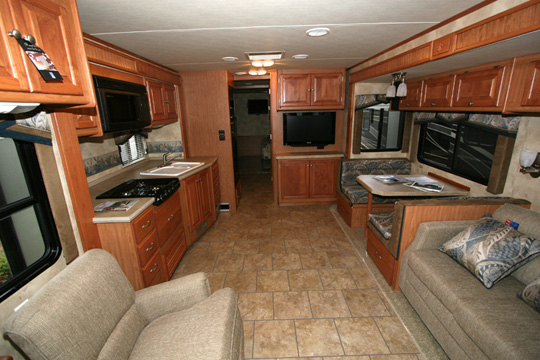 This view shows the main salon area as looking back from the cockpit. The standard LCD TV is located on the wall at the rear of the main living area. solar shade. This coach came with Medium Alderwod cabinets and the Azure interior. The quiet air conditioning system is fully ducted and comes out through a series of round ceiling ducts, some of which are visible in this view. The couch also folds out into a Hide-a-Bed for additional sleeping space.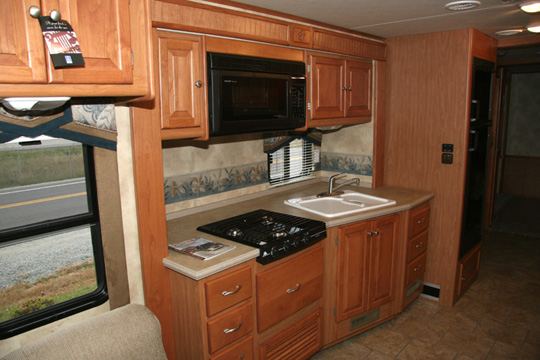 The galley work area features an overhead microwave/convection oven and a 3 burner cook top with storage beneath. The 25QBA is also available with a full oven but that extra storage area will then disappear.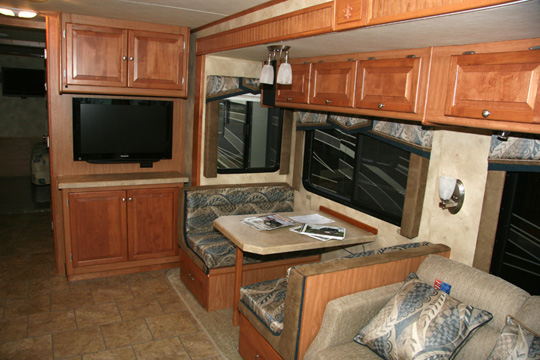 The dinette section comes with bench seating with extra storage underneath in handy pull-out drawers. The table drops down to form additional sleeping space as the back cushions now become part of the mattress. The back buffet holds the LCD TV as well as additional storage. Should a booth dinette not be desired, a freestanding dinette table with chairs is also available.
Interior - Bath and Bunks Area
There have been a few changes in the bath area this year. The shower was replaced and a backsplash added to the vanity in the toilet room.
The bunk area is immediately opposite the bathroom. An enclosed bath area features a sink and vanity, an enclosed shower, and a toilet. A Fantastic Vent fan is located in the ceiling to provide ventilation. The double bunks are very spacious and are easy to get in and out of.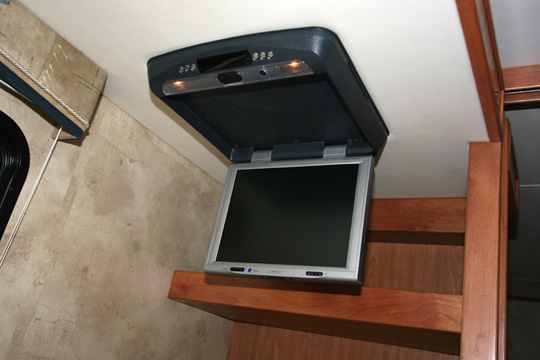 A very popular option with the kids is entertainment centers in each bunk. The drop-down screen is connected to a DVD player and auxiliary input jacks are present to plug in the ever popular game consoles. Headphone jacks are also provided to prevent irritating those who don't want to hear.
Interior - Master Bedroom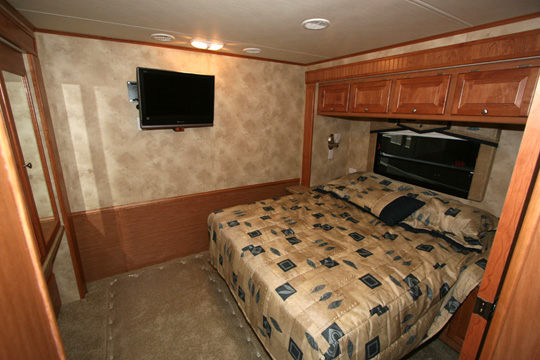 The master bedroom features a queen bed with plenty of storage space underneath. Sliding doors can separate it from the bunk and bath areas when closed. An optional 26" LCD TV is mounted on the rear wall. It's connected to a sturdy swivel arm that extends out to enable comfortable viewing from any angle.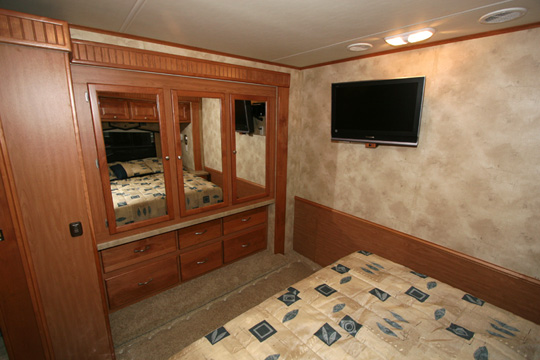 At the opposite end of the bedroom is a large wardrobe and drawer storage system to ensure there's plenty of room to store clothing and bedding.
Summary
The 2009 Allegro 35QBA is a unique offering. If you don't have a large family, chances are this floor plan won't appeal to you and you'd be better served by the other floor plans available. However, if you really want the benefits that a Class A motorhome bring over a Class C (storage, storage, and even more storage), but have a large family, this coach pretty much negates the argument of owning a class C. It's a feature rich motorhome at an entry level price that is well suited for large families. You have a great choice of chassis to pick from and Tiffin's options list makes it quite easy to customize this motorhome to suit your individual needs and tastes. Couple that with the awesome styling improvements in the 2009 model year and you'll have a very attractive coach at an affordable price.